IT'S TIME TO ROCK! THE 21st ANNUAL NIGHT OF 100 ELVISES IS HERE!!! SATURDAY DEC. 6th at the Hunt Valley Inn (
www.nightof100elvises.com
) I'm very excited and fortunate to be able to share the stage with bandmates Scott Mattern on lead guitar, Sam Goodall on bass, and Mark Lucas on drums. We hit the BALLROOM STAGE at Midnight! This party is one of the most unique in the world bar none! SEE YOU THERE!!
19th Annual HONFEST!!! 3:00 p.m. Sunday June 10,2012 I'm on the Bacardi Lounge stage for the 4th consecutive year! Thanks to Eric Willison I'll be sharing the bill with other talented tunesmiths from the Baltimore Songwriter's Association. Appearing alongside me will be longtime friends and cohorts Ronnie Warner on bass and Bruce Lily on percussion!! This is one of Baltimore's premier street festivals you won't want to miss so come on down for the party!!

Wow! Talk about synchronicity! I was at a New Years Eve party where DJ Batman was spinning, and during a break he invited me to be a guest on his Annual New Year 'Hair Of The Dog' radio broadcast on 98.1 Irie Radio located in the treetop penthouse of the tiki bar at Seacrets Nightclub bar and restaurant. Traditionally he will showcase a special guest in the middle of Beatle Hour and have them sing acapella on a song of their choice. Luckily I had a bag of harps with me so I chose to do 'Apple Scruffs', the George Harrison ode from 'All Things Must Pass'. Totally off the cuff but it came off great! Thanks DJ Batman! What a way to kick off the NEW YEAR 2012!!!
IT'S TIME TO ROCK! THE 18TH ANNUAL NIGHT OF 100 ELVISES IS HERE!!! This FRIDAY & SATURDAY DEC. 2ND/3RD at the Histsoric Lithuanian Hall in SoWeBo (
www.nightof100elvises.com
) A special edition of SHAKIN' AND STIRRED featuring the stellar guitarist Eric 'El' Rose, keyboard wizard Charlie Hamilton, gutsy songbirds Denny & Kelly from the fabulous Bellevederes, Ray 'Dorian Gray' Morgan, and the long awaited reunion of Bart Arconti on drums & Ronnie Warner on bass!! We hit the BALLROOM STAGE at 9:45 on Friday and 9:00 on Saturday. This party is one of the most unique in the world bar none! It's an honor to have been asked back........for BOTH NIGHTS.
Eight years and counting \../
Thank you Carole! ELVIS IS EVERYWHERE!!
Sunday November 6th at FRAZIERS On The AVENUE (wwwfraziersontheavenue.com) Full band tribute to legendary Urch Perch guitarist Gil Rinehart!! Part of the 2-Day BLUESETTE Reunion! Band slotted 6:00 - 6:30, $10 cover/day............

STEVE MACH MEMORIAL!!! Sunday October 23rd at Surf City in Perry Hall, MD. A tribute to my old friend and bandmate from VAMP CITY and The Actors. A star-studded blow out memorial for our fallen comrade........ R.I.P. Steve, your rebel spirit and legacy will continue to inspire us!!

August 11th THE CHINCOTEAGUE INN! I'll be jamming on the island's main street with Ken Gutberlet and local house band Black Narrows!

Friday August 5th An Potin Stil! Join me and ROCK with STONEWALL when I sit in for a special set dedicated to all the Dulaney High School alumni in town for their reunion! www.thestil.net

HONFEST!!! The 12th annual celebration of Baltimore kitsch is BACK! Saturday June 11th from 2:00 p.m. - 2:40 p.m. I'll be appearing at the
BACARDI LOUNGE!!! Come on down and let's kick off the SUMMER together!

Friday March 25th
'The Stil Allstars' appearing at An Poitin Stil
www.thestil.net
with special guest George Kepler from Easy on drums! I'll be playing a full set. Party starts at 9:30 p.m. no cover!!!!

Party at An Poitin Stil!
www.thestil.net
I'll be singing with my good friends in Stillbound once again this
Friday January 28th. No cover, music starts at 9:30 p.m.

NEW YEARS EVE!!! Join me when I sit in with Stillbound for a very special set at An Poitin Stil
www.thestil.net
with special guest drummer Buzzy London from Time Will Tell and direct from Floyd, Virginia multi-instumentalist Dave Fason from Windfall! Stalwarts Doug Roberts and Bernie Saggese on guitar and bass round out the band.
No cover, music starts at 9:30 p.m. HAPPY NEW YEAR 2011!!!!

It's that time of year once again for that most unique of all events, THE 17th ANNUAL NIGHT OF 100 ELVISES!!! I'll be appearing on the main ballroom stage with an ALL-STAR band Friday Dec. 3rd & Saturday Dec. 4th at 9:00 p.m. both nights!! 35 BANDS, 3 FLOORS with round the clock shows, a musical and visual feast for the ears and eyes! TIX ON SALE NOW, see
www.nightof100elvises.com
for info and outlets!!

Please join me when I sit in with my friends Stonewall Friday July 23rd at
An Poitin Stil
www.thestil.net
Along with Cindy, Bernie, & Doug I'll be joined by multi-instrumentalist Dave Fason direct from Floyd, Virginia on a rare break from his group Windfall for a special guest appearance!! No cover. Music starts at 9:30!!
IT'S BAAA-AACK!
The one and only outrageously all things Baltimore
HONFEST!!
Come join the party with
Shakin' & Stirred
on the
Bacardi Lounge stage
12:00 noon Saturday June 12th!
www.honfest.net
JUST ANNOUNCED: SUSIEFEST!!! SUNDAY MAY 23rd 2010 AT BOURBON STREET LIVE!
www.bourbonstreetbaltimore.com
Shakin' & Stirred (show time 4:00 p.m.) are converging to benefit Susie Mudd, the indefatigable champion of local musicians in the Baltimore environs and beyond! Who hasn't read Music Monthly or been mentioned in it's pages?! Susie put her heart and soul into writing, reviewing, and promoting artists that touched her heart and moved her soul. Her tireless passion was truly inspirational and it's time for us to give back. Please come and join us in support of this remarkable woman!
"Shakin' & Stirred sound like their name. Road warriors all, members Warren Cherry -singer, Clark Matthews -drums, Robert Frahm -lead guitar, and Zach Sweeney -bass, have individually played places as far flung as London, Finland, and New Orleans. A vibrant on-going side project when their journeyman odysseys allow them to converge on hometown Baltimore, their potent sound will compel you to dance while stirring the soul!"

NEW YEAR'S EVE! Join me at An Potin Stil as I guest with my friends in Stillbound!!

Friday and Saturday Dec. 4th & 5th 2009: THE 16th ANNUAL NIGHT OF 100 ELVISES!!! See SHAKIN' & STIRRED in the Main Ballroom! Featuring the legendary Tom Principato on guitar! Check out the LINKS section for info and tix!

BALTIMORE SONGWRITERS SHOWCASE!
October 15th 2009: Come catch my 5:00 p.m. set (Happy Hour!) at Leadbetter's Tavern in Historical Fells Point. This show is part of the 4th annual
BALTIMORE MUSIC CONFERENCE
INAUGURAL CRABCAKES & FOOTBALL FESTIVAL!! Saturday Sept.12th 2009 at Riverside Park in Federal Hill www.ccfbfestival.org Umbrella Radio is sponsoring my performance from 2:00-2:45 p.m. All proceeds benefit Recycled Love animal rescue. Podcasting of the show will post the following week @ www.umbrellaradio.org

JUST ANNOUNCED! Saturday June 13th 2009 on the BACARDI LOUNGE stage (east end of The Avenue/36th St.) The 10th ANNUAL HONFEST! Appearing 1:30-3:00 p.m. Join me and a cast of thousands for one of the best street festivals in Baltimore! www.honfest.com The long winter wait is OVER!! Join me along with the surfin' sounds of El Patapsco this Saturday March 14th 2009 at Frazier's On the Avenue, 919 W. 36th St., for the first annual 'SPRING THANG'!!!! 10:00 p.m.- .... ($6 cover)


Mill Valley Umbrella Internet Radio: Tune in 7:00 p.m. Thursday March 12th for a live remote interview with me by the Smoove Daddy DJ'S Eric & John! SPRING THANG! promo spot.
http://umbrellaradio.org

Archives:
This Friday and Saturday Dec. 5th & 6th 2008: THE 15th ANNUAL NIGHT OF 100 ELVISES!!! See SHAKIN' & STIRRED in the Main Ballroom! Check out the LINKS section for info and tix!


Just announced...Buck Owens Brunch! Nov. 16th 2008 at
Dangerously Delicious Pies in Hampden...Cosmic American music with your coffee & pie!

ORIGINALS PREMIERING ON STREAMING AUDIO:
Legends
Silver Trail
First Trip Around the Sun
The Traveler
Faith Hill
Hold Your Horses
Shadows In Steel
....and MORE!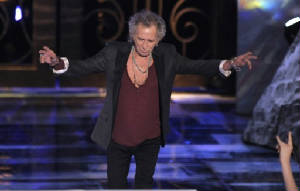 Archives:
One hour live interview and exclusive preview of new songs. September 2, 2008